Happy, merry, all the things!
I hope U.S. readers had a lovely Thanksgiving weekend and enjoyed spending time with family and friends.
Everyone finish up all your Thanksgiving turkey? I used this sour cream enchilada recipe with leftover turkey (substituting in place of the chicken) and it was delish! I also made turkey noodle soup (sharing some with a sick neighbor who missed out on the holiday), and we are now officially finished with our turkey!
Holiday foods
Usually I go pretty "big" for Thanksgiving, but we were more low key this year. We had turkey, homemade cranberry sauce, mashed potatoes, stuffing, and brownies for dessert (no pie!). Plus rolls. We did have rolls. But normally I'd also make sweet potatoes, green bean casserole, and several other side dishes and/or desserts that I didn't do this year. It was perfectly lovely, but still reasonable from a food preparation perspective. Not overwhelming with leftovers and nothing went to waste. In fact, my grocery spending this month is a little lower compared to the past couple months!  A true shock to me given that I'd planned my budget thinking that food spending would be higher this month. But we managed to squeeze out so many leftovers from the single Thanksgiving meal that it saved us on food costs that week (and still finishing it up here today and tomorrow).
Save some, splurge some…
So we saved on food, but we splurged on something else – family photos! I received a recommendation from a friend and we had photos done the day before Thanksgiving. The weather was perfect and we got gorgeous desert shots of our family all together. The photographer does it as a side-hustle (her full-time gig is as a nurse), so she was way more reasonable than some of the prices I've seen quoted elsewhere. We spent $140 for an hour and a whole gallery of digital photos. Here are a couple of my favorites: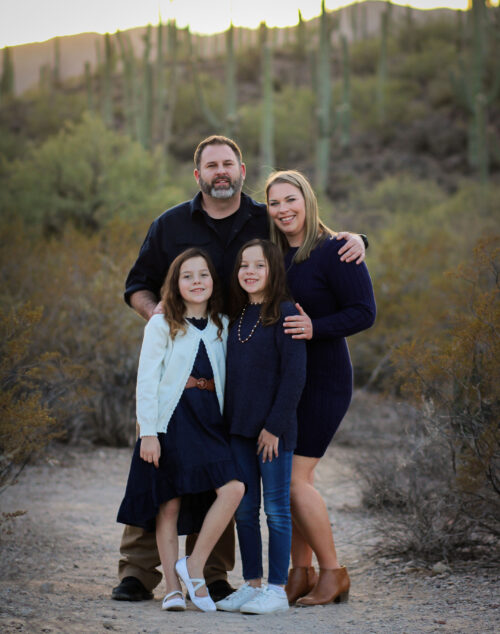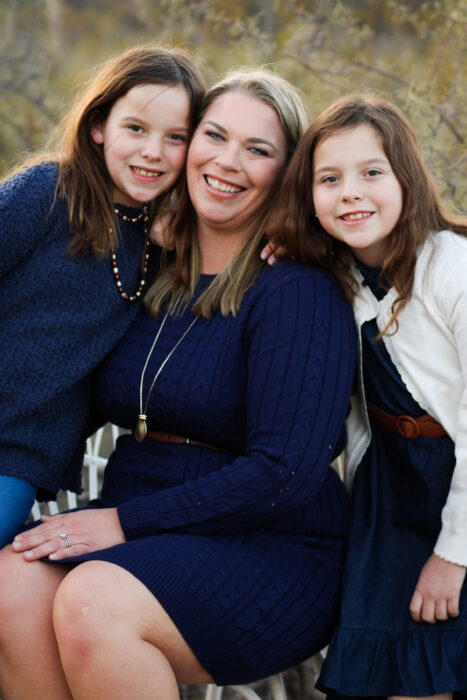 (Photo credit to S. Houghton Photography for local Tucson friends)
Memories to last a lifetime!
Long-time readers have watched my kids grow since they were 4 years old (they're 10-and-a-half now!). I can't believe how much they've grown. It's true what they say – the days are long, but the years are short. While pictures may not be in everyone's budget, it's a planned annual expense for us because I want to document this time in our lives. When the girls were younger, we would take our own annual photos (we didn't even own a tripod – we'd just prop a camera). Or there were times we'd have my stepdad take our photo with his fancy camera. Other times we did cheap pics in the Sears photo studio. The point is, there are ways around going to a professional. But if you can find a reasonably priced photographer who fits your budget – I think its a worthwhile splurge.
Do you do annual family photos?
Do you use leftover turkey in other creative ways? Recipes you want to share?
The post All the Holiday Things! appeared first on Blogging Away Debt.